Guide to Living in Anthem Country Club
Posted by AllHomesLasVegas.com (AHLV) on Friday, November 17, 2023 at 11:30 AM
By AllHomesLasVegas.com (AHLV) / November 17, 2023
Comment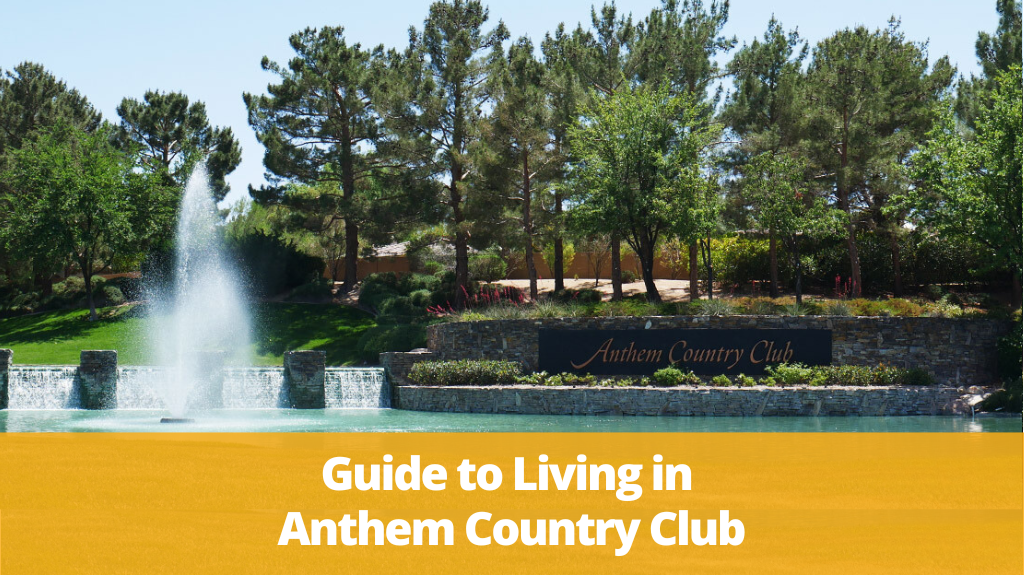 Anthem Country Club is where luxury meets comfort in a breathtaking community nestled in a prime location of Henderson, NV. If you're in search of a place that offers more than just a home, but a lifestyle filled with amenities, camaraderie, and endless possibilities, you've come to the right place. In this guide, we'll give an overview of what it's like living in Anthem Country Club, giving you a sneak peek into what it's like to be a part of this vibrant community.
What It's Like Living Anthem Country Club, NV
Nestled amid the picturesque landscapes of the Henderson, Anthem Country Club offers a captivating blend of modern elegance and natural beauty. This guard-gated community is a haven for those seeking a higher standard of living.
The charm of Anthem Country Club lies in its ability to provide residents with a serene retreat from the hustle and bustle of Las Vegas. With sprawling green spaces, tranquil water features, and stunning views, every moment spent here feels like a gentle escape into a world of luxury.
Whether you're enjoying a leisurely stroll through the neighborhood or taking in a round of golf, Anthem Country Club is a place where every detail has been meticulously curated to provide an unparalleled living experience.
Real Estate Options
Anthem Country Club offers an impressive array of real estate options that cater to diverse tastes and lifestyles. Whether you're seeking a spacious single-family home, a luxury home or home with golf course views, this community has thoughtfully curated residences that harmonize with your desires.
Lifestyle and Amenities
Anthem Country Club redefines the notion of a luxurious lifestyle by providing a wealth of amenities that cater to your every desire. Imagine waking up to the opportunity of indulging in top-notch facilities and activities right within your own community.
The heart of this vibrant community lies in its meticulously designed amenities, from the lush fairways of the golf course to the elegant confines of the clubhouse. Whether you're a fitness enthusiast looking for state-of-the-art workout facilities or a spa aficionado seeking ultimate relaxation, Anthem Country Club has it all.
But the true charm goes beyond the facilities themselves. It's the seamless integration of these amenities into your daily life that makes Anthem Country Club a standout. Enjoy a round of golf in the morning, followed by a leisurely afternoon by the pool, and wind down with an exquisite dining experience in the evening – all without leaving the embrace of your community.
Community Spirit and Activities
Anthem Country Club is known as one of the best neighborhoods in Henderson. The residents here share common interests and passions, creating a close-knit atmosphere that feels like a welcoming embrace. Engage in various clubs, groups, and gatherings tailored to diverse interests – from art and gardening to book clubs and hiking adventures. These connections make it easy to forge lasting friendships and truly feel at home.
Reach out for more information and to schedule a tour of neighborhoods in Henderson, NV. Call or text (702) 718-3878 or contact us today.
Dining and Culinary Delights
Satisfy your taste buds with an exceptional culinary experience within the country club. Explore a variety of dining options, from casual cafes to elegant restaurants offering an eclectic range of cuisines. Indulge in themed nights, wine tastings, and special events that make dining not just a necessity, but a memorable experience.
Nearby Attractions and Services
While Anthem Country Club offers a retreat-like ambiance, convenience is never compromised. Nearby shopping centers, services, and entertainment options on the Las Vegas Strip mean you can enjoy the tranquility of your community without sacrificing accessibility. From local theaters to dining establishments, you'll find a perfect balance between serene living and city conveniences.
Conclusion: What to Know About Living in Anthem Country Club, NV
Living in Anthem Country Club is more than just residing in a luxurious community; it's about experiencing a remarkable lifestyle that merges relaxation, activities, and a strong sense of belonging. With upscale homes, world-class amenities, a welcoming community, and a stunning desert backdrop, every moment becomes an opportunity to thrive. Explore the possibility of making Anthem Country Club your home, a decision that promises to transform your life in the most extraordinary ways.
Contact a Real Estate Agent to Tour Neighborhoods in Henderson, NV