Guide to Living in Anthem, Henderson
Posted by AllHomesLasVegas.com (AHLV) on Friday, November 17, 2023 at 11:00 AM
By AllHomesLasVegas.com (AHLV) / November 17, 2023
Comment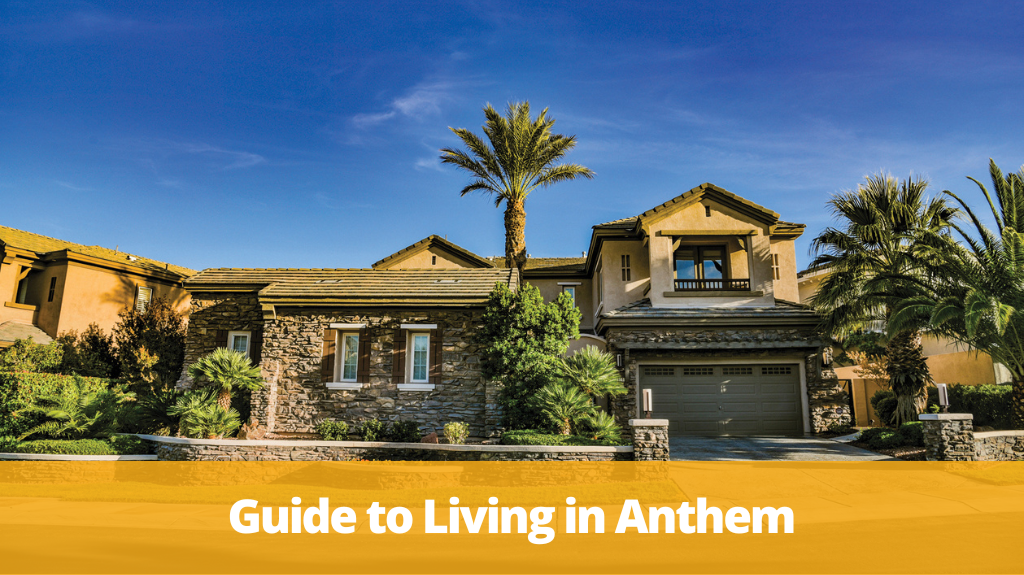 Nestled within the heart of Henderson, NV Anthem stands as a testament to the allure of suburban living. This tranquil enclave offers a respite from the hustle and bustle of city life while providing all the amenities one could desire. As we embark on this guide to living in Anthem, we'll uncover the hidden gems that make this community truly exceptional.
What It's Like Living in Anthem, NV
Location and Accessibility
Anthem's strategic location within Henderson ensures not only a serene suburban escape but also convenient access to the wider Vegas Valley. Situated near major highways like I-215, Anthem effortlessly connects residents to both local attractions and the bustling energy of Las Vegas.
The proximity to Harry Reid International Airport adds an extra layer of convenience, making travel seamless for both business and leisure. This prime location lets residents enjoy the best of both worlds: the tranquility of their Anthem haven and the dynamic possibilities of nearby urban centers.
Whether it's a daily commute or a weekend getaway, Anthem's accessibility enhances the overall living experience, making it an ideal choice for those who value both peace and the pulse of city life.
Residential Options
Known as one of the top neighborhoods in Henderson, Anthem boasts an array of housing options that cater to diverse lifestyles. From charming single-family homes exuding suburban charm to modern townhouses and guard-gated communities, there's something for everyone. Architectural styles vary, reflecting the vibrant blend of contemporary designs and classic aesthetics. Amenities like community pools, fitness centers, and beautifully landscaped parks make living in Anthem an enriching experience
Education and Schools
For families, Anthem offers a range of educational options near by that prioritize academic excellence and personal growth. Local public schools are known for their dedicated teaching staff and comprehensive curricula, while private schools provide specialized education with smaller class sizes. Extracurricular activities such as sports, arts, and clubs ensure well-rounded development for students. Additionally, access to nearby educational resources, such as libraries and tutoring centers, further enriches the learning experience.
Healthcare and Wellness
Anthem prioritizes residents' well-being through its comprehensive healthcare and wellness offerings. With a range of medical facilities, clinics, and hospitals in close proximity, residents have easy access to top-notch healthcare services. Beyond medical care, Anthem promotes a holistic approach to wellness.
Fitness enthusiasts can choose from an array of gyms, wellness centers, and fitness classes to suit their preferences. The community's commitment to health-conscious living is evident in its various programs and initiatives that encourage active lifestyles and overall wellness.
Reach out for more information and to schedule a tour of neighborhoods in Anthem, Henderson, NV. Call or text (702) 718-3878 or contact us today.
Dining and Entertainment
Satisfying culinary cravings and finding entertainment options is a breeze in Anthem. The dining scene is diverse, featuring a plethora of restaurants and cafes that cater to various tastes. Whether you're in the mood for international cuisine, comfort food, or gourmet treats, you're sure to find something that delights your palate. The surrounding Anthem area also offers entertainment venues, theaters, and cultural activities, providing ample opportunities to unwind and enjoy the arts. As the sun sets, the local nightlife and social scenes come alive, allowing residents to mingle and create lasting memories.
Shopping and Retail
Anthem's retail landscape is a shopper's paradise. Shopping centers and malls offer a mix of well-known brands and local boutiques, ensuring a unique shopping experience. Specialty stores contribute to the community's vibrant economy while offering residents a chance to discover one-of-a-kind treasures. From fashion to home goods, the retail options in Anthem are designed to meet every need.
Outdoor Recreation
For those who relish outdoor adventures, Anthem doesn't disappoint. Nature enthusiasts can explore nearby hiking trails that wind through picturesque landscapes, offering breathtaking views and opportunities to connect with the natural world. If sports are more your style, Henderson's golf courses, tennis courts, and sports facilities cater to both casual players and seasoned athletes. The community's commitment to creating family-friendly spaces is evident in the presence of parks, playgrounds, and recreational areas.
Conclusion: What to Know About Living in Anthem
In the heart of Henderson, Anthem stands as a testament to the allure of suburban living. From its convenient location to its vibrant community atmosphere, Anthem offers residents a harmonious blend of tranquility and convenience. Whether you're drawn to its diverse housing options, community-oriented lifestyle, or access to amenities, living in Anthem provides an enriching experience that feels like a true oasis in the modern world. Consider Anthem as your next home, and discover the serenity and vibrancy that make this community truly special.
Contact a Real Estate Agent to Tour Neighborhoods in Anthem, Henderson, NV