Moving from California to Las Vegas
Posted by AllHomesLasVegas.com (AHLV) on Friday, November 17, 2023 at 10:30 AM
By AllHomesLasVegas.com (AHLV) / November 17, 2023
Comment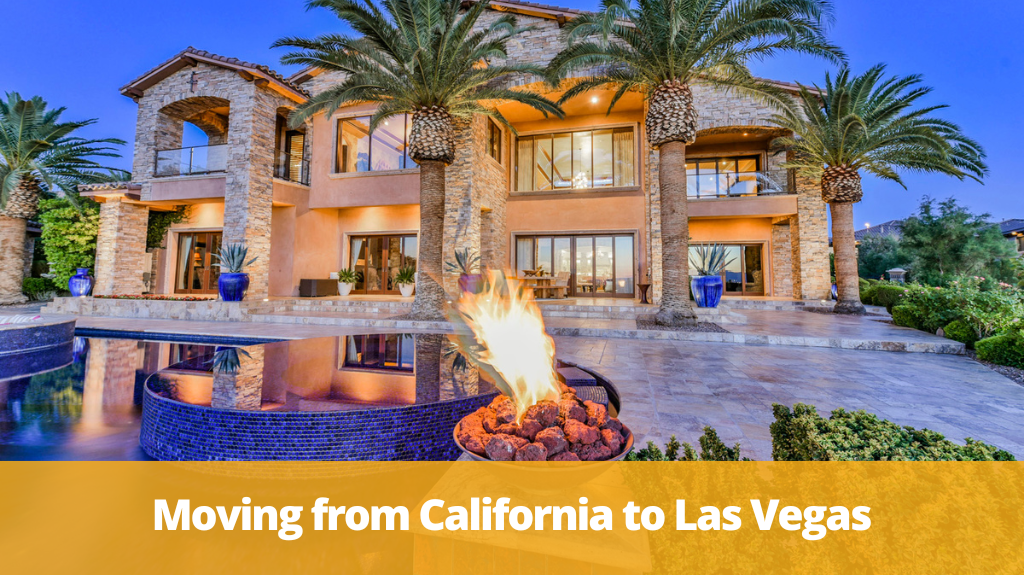 If the idea of transitioning from the golden shores of California to the vibrant lights of Las Vegas has crossed your mind, you're in luck. Whether you're enticed by the lively nightlife, diverse entertainment choices, or the more economical cost of living, a multitude of reasons pave the path for this move. In this guide, we decode the what to know about moving from California to Las Vegas.
Moving from California to Las Vegas
Discover Affordable Luxury Living
Leaving behind the high costs of California for the allure of Las Vegas unveils a pocket-friendly yet luxurious lifestyle. Envision the chance to call a modern, luxury home your own without the premium price tag. In Las Vegas, your earnings stretch further, allowing you to indulge in life's finer pleasures without straining your finances. From savoring gourmet dining experiences to immersing in the city's entertainment offerings, you'll have a broader budget to fully relish the unique Las Vegas experience.
Experience a Tapestry of Entertainment
Relocating from California to Las Vegas translates to diving into an ocean of entertainment options. The city's reputation for vibrant nightlife, top-tier shows, and iconic casinos holds true. Be it the allure of live performances, the glamour of bustling casinos, or a leisurely walk down the renowned Las Vegas Strip, the city serves up a medley of pursuits catering to diverse tastes. From electrifying live gigs to refined dining escapades, Las Vegas sets the stage for a variety-packed entertainment journey.
Unlock Tax Benefits
Among the appealing aspects of the Las Vegas move is the attractive tax landscape. Nevada proudly boasts zero state income tax, which directly translates to an enhanced financial outlook. This fiscal benefit can wield substantial influence on your overall quality of life, enabling you to channel funds towards memorable experiences, savings goals, and strategic investments aligned with your aspirations. With the burden of state income tax lifted, you're free to enjoy the fruits of your labor and chart novel paths for financial growth.
Flourishing Job Market
Las Vegas extends its appeal beyond entertainment, evolving into a thriving hub across diverse industries. Its vibrant economy encompasses realms spanning hospitality, tourism, technology, and healthcare. This multi-faceted professional realm ensures a plethora of avenues for those seeking career fulfillment. Whether you're eyeing expansion within your current field or contemplating a fresh career start, Las Vegas unfurls a fertile ground for skill enhancement and upward mobility.
Desert Beauty and Outdoor Pursuits
While California boasts its coastal allure, Las Vegas offers the captivating charm of desert landscapes. Embark on outdoor escapades in Red Rock Canyon and neighboring national parks, offering trails for hiking, climbing, and immersion in the natural outdoors. The captivating desert sunsets and distinctive geological formations serve as a constant reminder of nature's marvels. Seize the opportunity to explore these untamed treasures and embark on invigorating outdoor endeavors that rejuvenate the soul.
Exploring Neighborhoods in Las Vegas
Relocating from California to Las Vegas requires consideration of areas and neighborhoods. Las Vegas presents a diverse range of communities, each with its own distinct traits and conveniences. Here are a few areas to consider:
Situated on the western outskirts of Las Vegas, Summerlin stands as a meticulously planned community home to hundreds of neighorborhoods and sub-divisions celebrated for its family-friendly ambiance and top-tier educational institutions. This locality offers an array of housing selections, spanning from detached homes to upscale apartments and condominiums. With its meticulously maintained parks, golf courses, shopping hubs, and entertainment establishments, Summerlin emerges as a favored pick for families and individuals seeking a suburban vibe alongside convenient access to amenities.
Just a short distance southeast of Las Vegas, Henderson emerges as a flourishing suburb acknowledged for its secure and family-centric surroundings. Henderson accommodates an extensive spectrum of housing possibilities, ranging from budget-friendly detached homes to opulent estates. Additionally, the locale boasts an abundance of parks, outdoor recreational enclaves, and family-oriented amenities such as exceptional schools and community hubs.
Reach out for more information and to schedule a tour of neighborhoods in Las Vegas, NV. Call or text (702) 718-3878 or contact us today.
Navigating Relocating from California to Vegas
Transitioning from one state to another entails intricate arrangements, yet with effective forethought and strategizing, you can ensure a seamless experience. Here are some suggestions to facilitate your relocation from California to Las Vegas:
Advance Planning
Recognize that moving constitutes a substantial undertaking, prompting the need for early preparations. Devise a comprehensive moving checklist that encompasses tasks like locating a new abode, transferring utilities, informing service providers and institutions about your updated address, and reserving professional movers or a moving vehicle. Enhanced organization translates to a smoother transition.
Familiarize with the New Locale
Prior to embarking on the move, allocate time to research and acquaint yourself with your fresh surroundings. Acquire insights into neighborhoods, facilities, schools, and transportation alternatives available to you. Consider arranging a visit to Las Vegas before the move to acquaint yourself with different areas and identify those harmonizing with your lifestyle and preferences.
Frequently Asked Questions About Moving from California to Las Vegas
1. Is the Cost of Living More Affordable in Las Vegas Compared to California?
Generally, the cost of living in Las Vegas is perceived as more budget-friendly than in numerous parts of California. Housing expenses, which include both rent and home prices, are usually less burdensome in the Las Vegas real estate market. This can potentially lead to noteworthy savings and the ability to enjoy a more comfortable lifestyle without the steep costs often tied to living in California.
2. What are the Employment Prospects like in Las Vegas?
Las Vegas boasts a varied job market that encompasses opportunities in sectors such as hospitality, entertainment, technology, and healthcare. The city's economy has demonstrated growth, attracting professionals from diverse backgrounds. It's advisable to engage in thorough research to identify potential job avenues before undertaking the move to ensure a seamless transition.
3. How Does the Entertainment Scene Compare in Las Vegas and California?
Las Vegas is renowned for its lively entertainment offerings, often earning the moniker "Entertainment Capital of the World." While California features its fair share of attractions, Las Vegas presents a distinct blend of top-tier shows, concerts, and casinos concentrated primarily along the iconic Las Vegas Strip. The city's entertainment options span a broad spectrum, ranging from Broadway-caliber productions to performances by renowned celebrities.
4. What Should I Factor in When Selecting a Neighborhood in Las Vegas?
The process of choosing a neighborhood entails considering aspects such as your personal lifestyle preferences, proximity to work or educational institutions, access to amenities like parks and shopping, and the overall ambiance. Las Vegas encompasses a diverse array of neighborhoods, each possessing its unique character. Exploring multiple areas, observing them at different times of day, and engaging with local residents can aid in identifying a neighborhood that aligns with your requirements.
5. How Does the Climate in Las Vegas Differ from California?
Las Vegas experiences a desert climate, resulting in scorching, arid summers and mild winters. While California encompasses diverse climate zones due to its expansive size, both regions generally encounter warm weather conditions. Nonetheless, Las Vegas tends to encounter more intense heat during the summer, with temperatures frequently surpassing the 100-degree Fahrenheit mark. It's prudent to prepare for the desert climate intricacies before contemplating the relocation.
Conclusion
Moving from California to Las Vegas can be an exciting adventure. The process involves considering important factors like the cost of living, climate, and lifestyle changes. It's essential to research and plan ahead to ensure a smooth transition. Keep in mind the lower housing costs and absence of state income tax in Las Vegas. Prepare for the desert climate, which means hot summers and mild winters. Lastly, embrace the unique entertainment and recreational opportunities that Las Vegas has to offer.
Contact a Real Estate Agent to Tour Neighborhoods in Las Vegas, NV