Moving from Hawaii to Las Vegas
Posted by AllHomesLasVegas.com (AHLV) on Friday, November 17, 2023 at 10:00 AM
By AllHomesLasVegas.com (AHLV) / November 17, 2023
Comment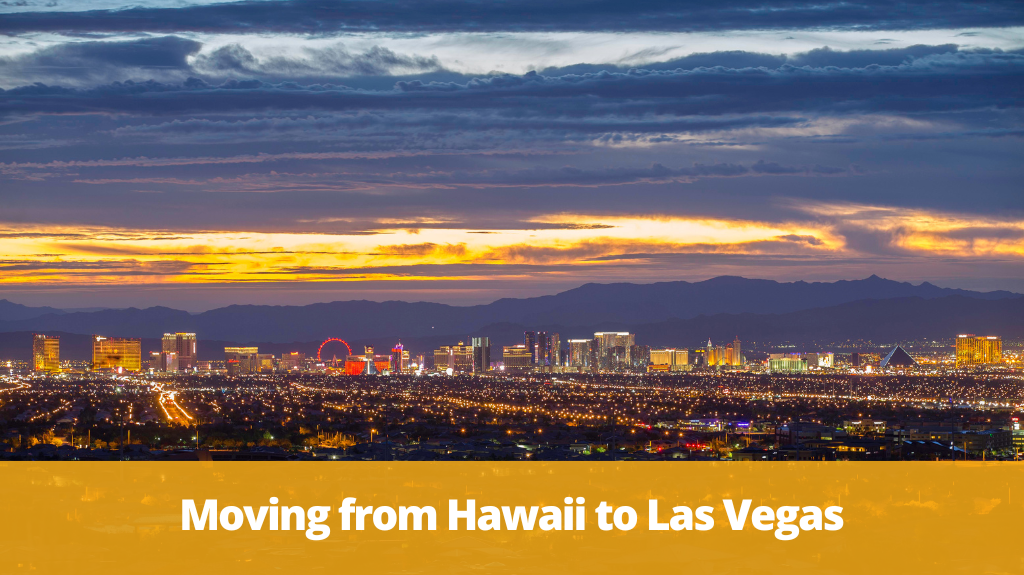 Imagine embarking on a remarkable journey – exchanging the idyllic Hawaiian Islands for the dazzling spectacle of Las Vegas. This transition promises adventure and novel prospects. Let's dive into to moving from Hawaii to Las Vegas and what to expect.
Benefits of Moving to Las Vegas from Hawaii
When contemplating a move from Hawaii to Las Vegas, it's crucial to consider the array of benefits that accompany this transition. Here are a few things you can anticipate:
Cost of Living
One of the most significant advantages of relocating from Hawaii to Las Vegas is the considerably lower cost of living. While Hawaii is renowned for its steep expenses, Las Vegas provides a more pocket-friendly environment encompassing housing, groceries, and daily essentials. This equates to an enhanced quality of life without straining your finances.
Las Vegas holds an additional financial benefit with its absence of state income tax. This translates to retaining a larger portion of your income. Coupled with reasonable expenses, this fiscal perk can be advantageous.
Moreover, Las Vegas presents a thriving job market teeming with diverse career prospects. The city stands as a pivotal hub for industries like tourism, entertainment, and technology, drawing professionals from various fields to its alluring opportunities.
Climate
While the allure of Hawaii's tropical climate might be hard to relinquish, Las Vegas offers its own distinctive climate that many find appealing. The city basks in scorching summers and mild winters, graced by an average of over 300 sun-drenched days annually. This climate fosters a year-round playground for outdoor activities like hiking, golfing, and swimming.
The enchantment of Las Vegas extends to its awe-inspiring sunsets and the crystalline expanse of its desert skies. If stargazing or photography captivates you, the city extends abundant avenues for indulging in these passions. The arid climate also signifies diminished humidity, a respite for those who find Hawaii's humidity less than comfortable.
Entertainment and Lively Lifestyle
Las Vegas attains eminence for its pulsating entertainment panorama, showcasing world-class shows, concerts, and a spirited nightlife. From the iconic Las Vegas Strip to the myriad entertainment, professional sports and casinos, the city offers endless excitement. This shift can invigorate individuals who yearn for a more thrilling and dynamic way of life.
Beyond entertainment, Las Vegas boasts a rich and expanding culinary scene, encompassing an eclectic array of international cuisines. Whether your inclination veers toward upscale dining or street-side delicacies, the options are abundant and sure to gratify your cravings.
Furthermore, for those with a penchant for shopping, Las Vegas presents a plethora of luxury malls, outlet centers, and quaint boutiques. From illustrious designer labels to singular local treasures, retail therapy options abound, catering to diverse tastes.
Adjusting to Life in Las Vegas Relocating from Hawaii
As you embark on the journey from Hawaii to Las Vegas, although the benefits are alluring, acclimating to your new environment requires preparation. Here are strategies to seamlessly integrate into the desert city's rhythm:
Immerse in the Las Vegas Pulse
Las Vegas possesses an individualistic culture and ambiance setting it apart. Engage fully with your new surroundings by participating in local activities. Attend concerts, shows, and events to absorb the vivacious entertainment culture. Explore neighborhoods and attractions, unlocking the city's multifaceted essence.
Extend yourself to connect with people and forge friendships. Las Vegas exudes an affable and inclusive aura, making it effortless to engage with others. Partake in community events and groups to foster connections.
Hydration and Sun Safety
Las Vegas' desert climate can prove challenging, especially if it's unfamiliar. Prioritize hydration, consuming ample water, particularly in the scorching summer months. Safeguard yourself from the intense sun by applying sunscreen and donning protective attire – hats and sunglasses are invaluable companions.
Counteract the arid air by adopting protective measures. Employ moisturizers and lip balm to prevent dryness. Consider incorporating a humidifier in your home to infuse the atmosphere with moisture.
Embrace Outdoor Ventures
Las Vegas is encircled by breathtaking natural landscapes, an invitation for outdoor escapades. Exploit this by exploring nearby sites like the Red Rock Canyon National Conservation Area, Mount Charleston, and Lake Mead. Whether your predilection leans towards hiking, rock climbing, or water-based activities, a realm of possibilities awaits.
Engage in community fitness endeavors such as joining running collectives or participating in charity walks and marathons. The picturesque setting and sunny climate create an idyllic backdrop for outdoor workouts.
While transitioning from Hawaii to Las Vegas presents a notable shift, equipped with readiness and an open mindset, it can herald an exhilarating chapter. Embrace the perks the move affords, simultaneously adapting to the city's unique lifestyle and climate. In due course, you'll seamlessly blend into the city that remains animated day and night.
Reach out for more information and to schedule a tour of neighborhoods in Las Vegas, NV. Call or text (702) 718-3878 or contact us today.
Frequently Asked Questions
1. How does the climate in Las Vegas contrast with Hawaii?
Anticipate a marked weather contrast in Las Vegas relative to Hawaii's tropical embrace. The Las Vegas summers are parched and sizzling, with temperatures often soaring beyond 100 degrees Fahrenheit. Winters bring milder climes, fluctuating from the 40s to the 60s. In contrast to Hawaii, Las Vegas cycles through all four seasons, even witnessing sporadic snowfall in nearby mountains.
While the Las Vegas climate might necessitate adaptation, it also presents the opportunity to cherish the allure of shifting seasons, relishing cooler intervals, and partaking in outdoor pursuits that Hawaii may not readily afford.
2. What is the difference in cost of living between Las Vegas and Hawaii?
Las Vegas generally boasts a cost of living lower than Hawaii's. Housing expenses, particularly, tend to be more economical in Las Vegas. The median home price in Las Vegas trails that of most Hawaiian cities, fostering accessibility for those eyeing property ownership or rentals.
Other dimensions of living expenses, encompassing groceries, transportation, and healthcare, similarly lean budget-friendly in Las Vegas versus Hawaii. Nevertheless, keep in mind that individual lifestyle preferences and spending habits can significantly sway overall expenditure.
3. Are there any career prospects in Las Vegas?
Las Vegas thrives on its effervescent tourism sector, a fountainhead of diverse job openings. The city shelters an array of hotels, resorts, and casinos, catering to an assortment of roles spanning hospitality, entertainment, and food and beverage services.
Recent times have also witnessed Las Vegas diversifying its industrial landscape, welcoming expansion in technology, healthcare, and logistics sectors. Esteemed corporations have anchored their presence in the city, ushering in professional opportunities spanning IT, healthcare provisions, and transportation.
4. How does the culture vary between Hawaii and Las Vegas?
A vibrant mosaic of cultures defines both Hawaii and Las Vegas. Hawaii is steeped in its Polynesian heritage, while Las Vegas thrives as a melting pot steeped in diverse influences.
Las Vegas radiates cultural inclusivity, often commemorated through festivals, events, and cuisine. A myriad of international eateries mirrors diverse cultures, abuzz with dynamic arts arenas and entertainment genres accommodating multifarious inclinations.
5. What attractions and activities can be done in Las Vegas?
Las Vegas stands acclaimed for its elite entertainment, opulent resorts, and nocturnal vivacity. The iconic Las Vegas Strip unfolds with grandeur, featuring resplendent hotels, live spectacles, fine dining, and casinos where fortune beckons.
Beyond the Strip, Las Vegas bequegeaths bountiful outdoor ventures, embracing nearby trails, national parks, and scenic golf courses. The vibrant arts enclave, museums, and contemporary arenas are also yours to explore, graced by sports events and concerts.
Conclusion – Moving from Hawaii to Las Vegas
Moving from Hawaii to Las Vegas resonates as an exhilarating odyssey, while the trail blazes with its own share of adaptations. The climate shift is substantial, transforming from tropics to desert. Las Vegas offers a financial advantage with lower expenses, although job prospects might diverge. Poring over neighborhoods for the right abode and forging new friendships eases the transition. Ultimately, this migration unearths a thrilling adventure, accompanied by necessary adjustments along the way.
Contact a Real Estate Agent to Tour Neighborhoods in Las Vegas, NV